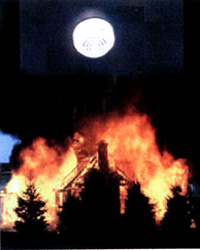 Greater reliability and benefits..
The traditional designing of fire systems involves at least three trades: alarm systems are designed by electrical engineers, structural engineers design the fire protection of the structure while safety engineers are responsible for the design of the sprinkler systems.
Our fire control systems has the technological capability to..
Locate fire precisely from a central location.
Be more integrated and more "communicable" between fire systems and other control systems
Be more sophisticated to detect and reduce false alarms and are therefore more reliable. Our intelligent detectors can differentiate between pre-programmed fire patterns, sensors can track the path of the smoke and more intelligent detectors combining different types of sensors can react intelligently to the nature of smoke particles.
Combine various types of sensors to allow a standardization of the types of detection. The old requirements of having specific types of detectors for different types of areas limit the flexibility of space use.
The Quantum fire systems engineering and integration has brought about real benefits in terms of flexibility of design, space usage, money saved and safety to life.